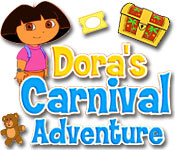 I had to take a minute and tell you about one of my daughter's favorite computer games. While it does have a free trial, it does cost after the trial is over. Although I must say it's really kept her interest and is well worth the money (especially if you buy a membership!).
I picked up a few computer games for Christmas, but she's already beat one and the other she isn't all that interested in now. But Dora's Carnival Adventure she keeps going back to. It takes quite awhile to actually "beat" the game.
The concept is pretty simple – you play different games to earn tickets. Each game gives different amounts of tickets depending on if you win or lose (or come in 2nd place). For example, one game is a race where you get to pick the character you want to be. You and two other dora characters race down a slide, and the winner gets tickets. Come in second and you still get a ticket or two.
Tickets are used to buy prizes which you can "play" with. The first few don't take very many tickets, but the higher prices take a few hundred. So getting all the prizes does take some time, which is why she keeps going back to it.
I highly recommend this game if you are looking for a nice computer game for your toddler or preschooler (my daughter is 5, and it challenges her but does not frustrate). The educational value is a bit lower than other Dora games and activities, but it does teach counting (the tickets) and goal setting (working towards the prizes). Perfect game for when you are stuck in the house!