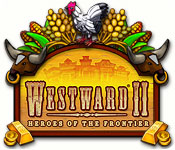 There's a new game on BigFish I'm addicted to. It may seem a little cheesy, but I absolutely love games like this. You really have to use your head to make the right moves.
If you haven't played the first Westward, I suggest you download that one first. Trust me, you'll be hooked before the free hour is up. I completed that one quite a few months ago and loved it.
Then just the other day they came out with Westward II: Heroes of the Frontier, which I knew I'd be hooked on just as soon as I tried it out. I had some saved credits from my club membership to use, so of course I bought a full copy. It's SO much fun figuring things out and doing all the mini-quests within the game while building up a town.
When you download games from BigFish, I highly recommend buying a club membership where you are charged monthly for credits. When I get in the mood to play, I use several at a time, then leave it for a few months. It's much cheaper doing it this way instead of buying the games individually at full price. They've got such a wide selection of entertaining games you WILL be able to use all those credits in a year. Plus they have quite a few games the kids love too, so it's more for the whole family instead of just one person.
Have fun and good luck playing Westward!