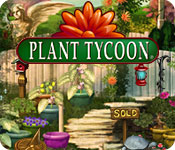 Does it seem odd I post about my favorite time waster right after a post about trying to get my house organized? Honestly though, this game doesn't hold me back as much as you'd think it would. It's more of a "quick break" than anything else (and trust me, I'd be taking these breaks regardless).
The best part of Plant Tycoon is the fact you have no choice but to walk away from the game for periods of time. The object of the game is to grow various plants and find new ones from cross breeding them. Thing is, it takes over 40 mins for plants to grow. That's over 40 mins I take to get up and DO something while I wait. It's only on my breaks that I tend to them and actually play.
The playing time is shorter than the growing time, so really this is a perfect game to have up while you are cleaning house or doing other things. Reason being you would get extremely bored just sitting there watching them grow. Now they do have random bugs to catch, although that gets boring too. In between tending to the plants, I let the kids watch and catch the bugs. My 5 year old thinks it's pretty cool, and she's pretty good at it too!
So if you are looking for a fun game to play, check this one out. With built in breaks away from the game, you'll actually get something useful done while playing it!







Link to this page
Link to this page
Copy the code below to your web site.
Related posts:
Leave a Reply